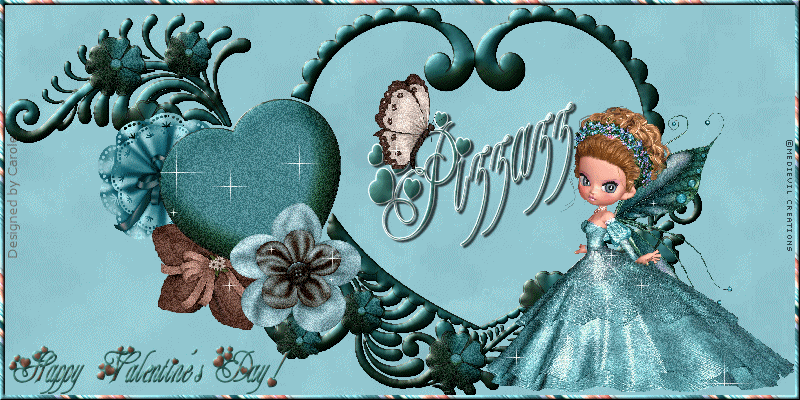 Good graphics are the heart of a great design;
animation its song, its spirit, its pizzazz!!!
ORDER FORMS:
Please click the following links to place a CUSTOM order.
Thanks.
MONTHLY MAINTENANCE SERVICE:
One small monthly price.
I'll do our best to accommodate your schedule.
REQUEST FORMS:
Please click the following link to request a FREE league design.
Thanks.
You must be already
registered to request a design.
Register here!
Free League Registration!
CONTEST:
Congratulations to Rene B.
Winner of the January contest.
Please click the following link to enter our contest.
Thanks.
FREE DESIGNS:
TOURNEY DESIGNS
LEAGUE DESIGNS
NEWSLETTER DESIGNS
BACKDOOR BUTTONS
SITE NEWS:
Welcome to Pizzazz!
I am currently looking for an EXPERIENCED designer.



If you have at least one year proficiency in PSP, Animation Shop,
Plug-ins, & either HTML or CSS coding, I would like to interview you for the job.

I am open to another design site that would like to merge with me
Or with having another designer that would be willing to work towards a partnership.

Please register by clicking the following button!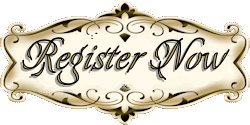 "February's CONTEST"!
This contest duration will be from February 1st - 28th.
Winners will receive a custom tourney design.
Winner of January's Contest is (drum roll please) Rene B.
Congratulations!!



Please click the following "ENTER MY CONTEST" to enter the contest.




ENTER MY CONTEST
RULES
1. Any league's staff member may enter this contest only once during its duration.
2. This contest is a random, computer generated contest.



PRIZES


* 1 - 10 entries = 1 winner
* 11 - 20 entries = 2 winners
* 21 - 30 entries = 3 winners
* 31 - 40 entries = 4 winners

Business Hours:
Monday through Friday
12:00PM - 9:00PM EST

I would appreciate it if you would hold any orders or needed information for during my business hours.
This does not pertain to any emails.
Since my husband's illness it's very difficult to work seven days a week. Thank you!
NEWEST DESIGNS:
Updated on February 1th.

More designs listed under separate design categories.

I will make any modifications you want to our custom designs only.
CUSTOM TOURNEY DESIGNS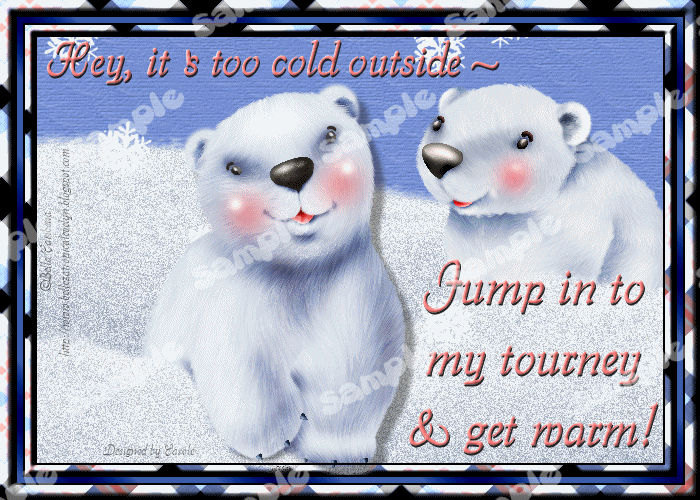 "Too Cold"Design is $12.00
| | |
| --- | --- |
| "Love is in the Air" | "Mauve Valentine" |
CLUB PIZZAZZ - FREE:
Join my Club Pizzazz ~ Free for FREE League Designs!!
Sign up today!!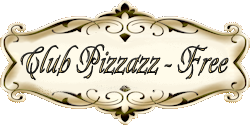 To qualify, the following rules apply:
1. No more then one design may be created for any league,
or individual in any given month.
2. Anyone found to remove any and all copyright information
will be banned from using this service.
3. You may request the league design of your choice.
If you don't see what you're looking for, please ask.
4. All free league designs will be available to all leagues that want it!
There can be no "One-Of-A-Kind" requests for free designs.
Please leave all copyright information on our designs.
Removing any copyright information, or my link back button is against my TERMS OF USE!!
Custom designs come with a small purchase price.
This charge is strictly for the time it takes to do the animation, any scrap kits/licenses, or tubes I purchased!!
Designs with Pizzazz ~ Copyright 2015 - 2019 ~ All rights reserved
BUSINESS INFO:
Contact me on Trillium IM: dbycarole
DONATIONS:
Please consider donating a $1.00 or more to help keep this site open.

All donations are greatly appreciated. Thank you!

Thanks to our supporters!
CHAT BOX:
Say 'hello', or drop me a line to let me know what you would like to see!
SISTER SITES:
Please stop by to hello to my friends!
Tell them Designs with Pizzazz sent you!
LICENSES:
Many times I need to purchase special licenses, in order to make sure my 'custom' designs are copyright compliant.